So my friends and I went to the October 21st Rockband Live tour at The Target Center in Minnesota. I had meet and greet from Northern Downpour and Zach let me bring my bfffff Ashley(
ashleybrosius
) and we did the meet and greet, which I was unbelievably stoked for since i didn't get to meet them at nintendo fusion tour in 2005 :[
:D they're so fucking adorable and omg jon ahdskksd
anyways, we got done with our meet and greet before doors opened because we were a really tiny group so zach made the security guards let us go in first so we got barricade!
so we stood around for what felt like forever until The Cab came on and omg i've been dying to see them for everrrr and now i finally did and it made my life jesus christ. Also Singer bringing up Sing It Loud since they're our hometown band made it even better :')
Can You Keep A Secret?
then plain white t's came on, i hate them a lot so i didn't take any pictures or videos. sorry pwt fans :(
then dashboard was next and i was all over vindicated and stolen :D hah.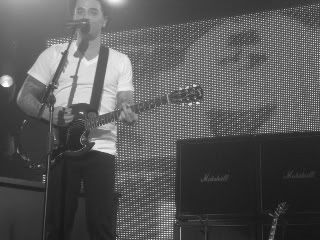 The best part of their whole set though was the Pink Cover!
So What:
and then panic came on :) i hadn't seen them since the summer tour in 2006 so seeing them on this tour was so wiiiiiierd :D but shit ryans voice got sooo good! Definitely one of my favorite shows by far!
Shout:
after panic i had to go out and street team for Island Records and so we stood outside for about an hour after the show and everyone had cleared out so we walked over to the buses and at that same moment zach said he was going to bring out the guys again. so he brought them all out one at a time. first brendon, then ryan, then jon, then spencer. spencer took forever to come out and when he did he was SO wasted holy shit. When he got to me he like tipped over on me and was like WHOA and i was like uh whoa? and then after he got through the line of us he was running down the line giving high fives screaming "WE WON THE GAME!" it was insane but that's why we love him :')
more videos are going to be uploaded onto my youtube shortly:
http://www.youtube.com/user/WTFJENNETROFL
the enddd